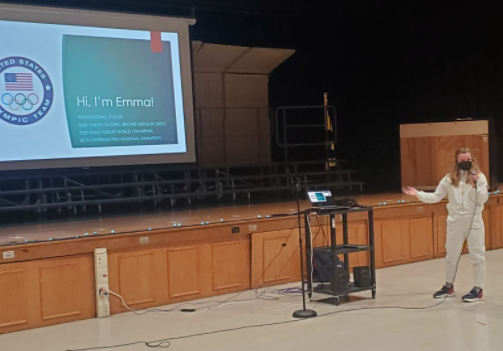 eNews Weekly Update - Secondary School - January 7, 2021
Mr. Kenneth Rizzo
Friday, January 07, 2022
Dear Secondary School Families:
Happy New Year! I hope you had a safe commute this morning. The Secondary School closed out 2021 with two spectacular winter concerts, many of our girls and boys athletic teams hitting their stride and great character education programming. Speaking of character education, cyclist Emma White visited before the break and spoke with students about how she fell in love with cycling and developed into one of the best athletes in the world. After earning a spot on Team USA, she won a bronze medal in the 2020 Olympic games in Tokyo! Emma is a graduate of Duanesburg and attended Union College but no longer resides in the Capital District. We are extremely grateful to Ms. White for taking the time out of her busy schedule to come to Tamarac!
Bengal Awards: Congratulations to 8th grader Erin Lee for her Bengal Award recognition! After earning a certificate, Erin's name was pulled in our December character education drawing. Great job Erin and all of our Bengal Award recipients listed below for the month!
December Bengal Awards:
Respectful, Responsible, Honest, Social Intelligence, Citizenship
Erin Lee

Kiersten Skaarup

Troy Karz

Lailie Frierson

Gabriel Gearwar

Brayden Skiba

Hailey Munson

Israel Galvan-Garcia

Gavin Jeffs

Rowan Zapp

Sage Minbiole
January Regents Update: Due to the ongoing pandemic, NY State Education Department (NYSED) has made the decision to cancel all January Regents. Students scheduled to take the 11th grade ELA exam on January 25 will take the exam in June if it is offered. NYSED also informed school districts that no decision has been made about June Regents or any other state assessment programs. The College Physics semester exam offered through Siena will still be administered on the morning of January 28. We will keep you updated with any new information on future assessments when we receive more information.
January 25 Half Day (Secondary School) : A reminder that Tuesday, January 25 is a half day (11:00 am dismissal) for all 6-12 students. The afternoon is a half day of conference time for staff, originally planned around Regents testing. When students arrive home they will participate in remote learning independent activities provided by their teachers for the afternoon.
Career and Technical Education (CTE): A reminder for our CTE families that teachers at Rensselaer Educational Center will be hosting a Virtual Visitation Day for prospective incoming students on Tuesday, January 11th. Consequently, there will be no classes for CTE students on that day. A letter was sent home from Principal Defazio notifying students where to find their remote assignments for the day.
Attendance Guide for Families:
https://drive.google.com/file/d/15mVsKFnWWMX6X8KgaiNs23zpHImqeTff/view?usp=sharing
Calendar of Upcoming Events:
1/13/22 @ 6pm: January Board Of Education Meeting
1/21/22: End of quarter 2
1/25/22: Half day (Secondary)
Stay warm and be well!
Sincerely,
Ken Rizzo
Secondary School Principal