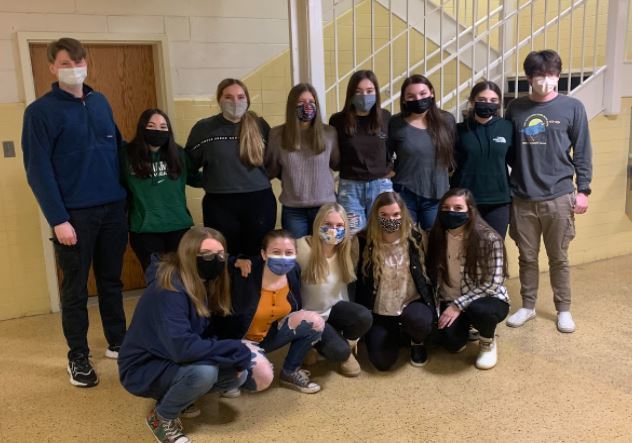 eNews Weekly Update from Mr. Rizzo - Week Ending January 29, 2021
Mr. Kenneth Rizzo
Friday, January 29, 2021
Dear Secondary School Families:
Will he or won't he see his shadow? This is the age old question as February 2 approaches on Tuesday. If you are buying what Punxsutawney Phil is selling, then I am rooting for him to not see his shadow. At times, lack of traditional social opportunities for both students and adults can make it feel like we are Bill Murray in the movie Groundhog Day. There will be brighter days ahead if we stay the course and continue to follow health and safety protocols both inside and outside of school. One positive sign of things to come, is the possibility of interscholastic athletics returning. This week, the New York State Public High School Athletic Association announced high risk sports have been authorized by the NYS Department of Health to begin practice and competition on February 1. There are still many unanswered questions at the county and local levels. You can expect more information from our Athletic Director, Ms. VanZandt as it becomes finalized and available. A reminder for our student athletes, per our Athletic Eligibility policy, they must be in good academic standing in their coursework in order to participate in all interscholastic sports.
Quarter 3: The third marking period is now underway. Your child's quarter 2 grades will be available on the parent portal around noon today. Please review the grades and feedback/comments from teachers. We have half of the year still remaining - this is a critical juncture in the year, particularly if your child is not working up to their potential. We need your help to ensure your child is attending all of their classes, engaging with instruction, and completing assignments on time. Students who fail will be required to complete additional coursework over the summer or repeat coursework needed for graduation in the fall. Students that are behind should reach out to their teachers now so we can work on a plan for the next 20 weeks!
Class of 2021 National Honor Society: Congratulations to the following students for being inducted into the National Honor Society. Twenty-two Tamarac students from the class of 2021 met the criteria for this very special recognition. Students must maintain a 90% or above cumulative average and be exemplary models of the four pillars of the National Honor Society; Scholarship, Leadership, Service and Character. We are very proud of the character and hard work demonstrated every day by this group of seniors!
| | |
| --- | --- |
| Vanessa Baldwin | Allison Motzer - Treasurer |
| Carter Casey | Catrina Murphy - Secretary |
| Grace D'Angelo - Vice President | Madailein Murphy - Secretary |
| Jackson Domurad | Michaela Pomposello - President |
| Tyler Filarecki | Katherine Rotondi |
| Marisa Gosselin | Tara Simmons |
| Jessica Heinrichs | Jordyn Sorel |
| Katherine Kazunas - Secretary | Katelyn Stancliffe |
| Kendall Lapham | Madison Wagner |
| Paige Maxwell | Melissa Washock |
| Liam McDonough | Samantha West |
School Lunch: A reminder that all students - hybrid and remote, are eligible for free meals (breakfast and lunch) this year! We have an amazing new high school cafeteria and kitchen. Please encourage your son or daughter to take advantage of the delicious and nutritious meals being served every day. I have attached a link with more information about the meal program. You may also reach out to our Food Services Director, Joy Wright if you have any questions.
https://www.brunswickcsd.org/o/bcsd/page/2020-2021-free-meal-program
Yearbooks: The staff is working hard to make The 2021 Tamarac High School yearbook as unique as this school year. For the first time the yearbook will cover the full school year! Order your copy for $59 (plus tax). Please note that the price will increase on February 5.
http://jostensyearbooks.com/?REF=A05396450
i-Ready Celebration: This week our middle school students worked hard on their i-Ready diagnostic assessments in ELA and math. i-Ready is an important tool that all of our middle school students take at the beginning, middle, and end of the year. The data is used by teachers to benchmark progress, inform and personalize classroom instruction,, and to determine the best way to allocate our districts resources in order to support student achievement. The 7th graders worked hard on their assessments so the team rewarded them with some "decompressing" activities. On Monday 7th grade celebrated National Bubble Wrap Appreciation Day - the students figured out the rate at which they could pop bubbles on a sheet per minute and learned about the history of bubble wrap and how 'void fill' materials have improved, due to environmental issues. Thursday was National Lego Day - students learned about the history of the Lego company and the evolution of the brick. The kids also spent some time making their own Lego creations. Please enjoy the photos below. Great job students! Great job 7th grade teachers!
Free Tutoring: A reminder that RPI students are offering free "virtual" tutoring every Saturday until May 1 for all Brunswick students.. This is a tremendous opportunity to consider if your child is behind and needs additional support.
https://www.brunswickcsd.org/article/350228?org=bcsd&fbclid=IwAR3agjl1KhMdZbGWJpfjfHvDVEthwvhXTwLGTzbsOyPq-QCeqcc-5xTt9Ew
Health/Wellness: **IMPORTANT** Please be sure to complete the daily screening survey before sending your child to school each morning. Your child should be kept home if they are experiencing any symptoms consistent with COVID. If your child's symptoms are improving AND they are fever-free for at least 24 hours without the use of fever reducing medicine, they may return to school with a note from their doctor with an alternate diagnosis clearing them to return to school OR a copy of their negative COVID test result. We appreciate your help in keeping our school safe for everyone!
Weekly Calendar:
Monday 2/1: WHITE COHORT Tuesday 2/2: BLUE COHORT Wednesday 2/3: RED COHORT Thursday 2/4: WHITE COHORT Friday 2/5 VIRTUAL DAY (6-12)
It's going to be an extremely cold weekend. That groundhog might just want to stay in hibernation. Bundle up, stay warm, and stay healthy! #TamaracStrong
Sincerely,
Ken Rizzo
Principal, Tamarac Secondary School