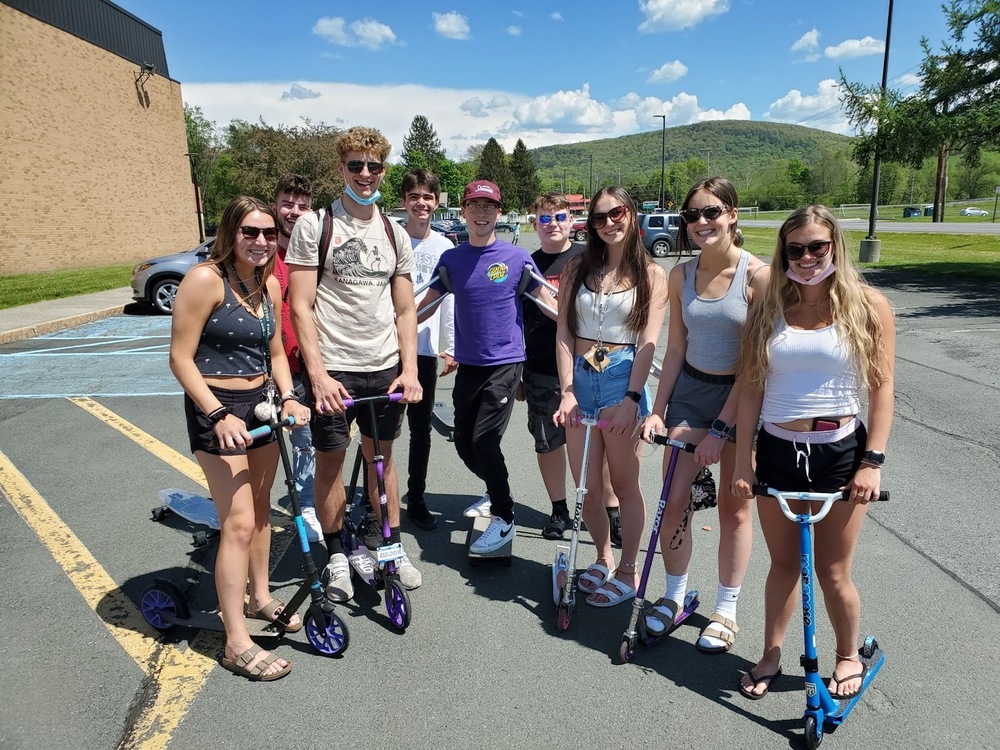 eNews Weekly Update from Mr. Rizzo - Week Ending May 21, 2021
Mr. Kenneth Rizzo
Friday, May 21, 2021
Dear Secondary School Families:
Happy Friday! It's been a very busy few days filled with a lot of really great happenings in the Secondary School. In fact, I would say this week has felt more "normal" than any other week this entire school year. Last Friday evening our seniors got to experience a very memorable prom. The students certainly dressed the part - it felt like (how I imagine) a red carpet event, seeing them roll in with sparkles and snazzy sport jackets! They had four hours to mingle, eat, dance, take photos and play cornhole until it was almost Saturday. We are all so proud of how this group carried themselves throughout the evening. As guests of Birch Hill, we could not have asked for better representation of Tamarac High School and our school community!
Another very exciting event that took place this week was the College Caravan. I'm pretty sure that the weather was custom ordered by our counselors - bright sunshine and high seventies for temperatures! Thirteen colleges set up booths on our front curb to help our juniors with the application and selection process. I hope you enjoy a few additional photos from the senior prom and the College Caravan! I will conclude by saying congratulations to Kaitlyn Bechand as the 2021 recipient of the Emily Hayden Memorial Award. The Brittonkill Friends of Music organized a very moving ceremony in honor of Emily Hayden and her family. Congratulations Kaitlyn!
Senior Prom 5/14/21

College Caravan 5/17/21

Emily Hayden Memorial Award

Senior Pranks: It's a rite of passage - seniors traditionally try to have a little extra fun as the year winds down. Scooters showed up in the building unexpectedly on Monday. It wasn't easy catching up with this fast moving crew on the way out! The seniors followed that act up by leaving Mr. White some presents in his office yesterday! What the seniors don't know is that Mr. White and I have a little something up our sleeves as well...

Budget Vote Tuesday: Thank you to our community for coming out and voting in support of the 2021-2022 school year budget! The budget passed with a vote of 266-134.
Regents Testing: In case you missed the letter sent out earlier this week here is all of the information you need for end of the year testing in the high school.
https://docs.google.com/document/d/1dQwaVkJSEV2ZM09Bf68blvP47nAJdHjoMSnKcIfKXxY/edit?usp=sharing
District YouTube Channel: Please visit (and subscribe to) "The Studio" YouTube Channel for some fantastic content showcasing the work and talents of students and staff at Tamarac! We have a lot of additional ideas in the works for this space heading into next year.
https://www.youtube.com/channel/UCkxguCAnHdshoJAiECci9oQ/playlists
8th Grade Moving Up Day: Here is all of the information for the 8th grade moving up ceremony on June 24. A reminder to parents that any 8th grade student that does not pass their 8th grade coursework will not be eligible to participate in the moving up date ceremony on June 24.
https://docs.google.com/document/d/1PfpBwnquyLCNKmdbtgojLPSdBbV85gErE8qMIO-VHrE/edit?usp=sharing
High School Graduation: Thank you for your continued patience as we plan a safe and memorable commencement ceremony for our students and their families on the morning of June 25 (at 10:00 am). This week we received new guidance that is allowing us to finalize plans. The information has continued to change and we want to make sure we are able to plan a ceremony that meets your expectations. If we had released a plan even a week ago it would have looked much different than what we are now able to do. Please stay tuned for final details...
Senior Picnic: Please join the Brittonkill PTSA, as it teams up with senior class advisors to provide the class of 2021 with an EPIC end of year picnic! We want our seniors to know how loved they are and send them out with a bang! The picnic is being planned for June 15. Your donations will be used towards:
Breakfast/Brunch - Catered by B-Rads Bistro
Obstacle and Waterslide Inflatables
Tea Booth - Set up by Identical Nutrition
Selfie Booth - Local Photographer
Suggested donation is $20.00 though any amount will help us reach our goal!
Donations can be made in any amount here: https://brunswick.memberhub.store/store/items/751630
**Parents of Seniors: we need a few volunteers for this day! Please send us a message if you are interested.
Health/Wellness: **IMPORTANT** Please be sure to complete the daily screening survey before sending your child to school each morning. Your child should be kept home if they are experiencing any symptoms consistent with COVID. If your child's symptoms are improving AND they are fever-free for at least 24 hours without the use of fever reducing medicine, they may return to school with a note from their doctor with an alternate diagnosis clearing them to return to school OR a copy of their negative COVID test result. We appreciate your help in keeping our school safe for everyone!

Calendar:
Monday 5/24 RED Cohort, Tuesday 5/25 WHITE Cohort, Wednesday 5/26 BLUE Cohort, Thursday 5/27 RED Cohort, Friday 5/28 NO SCHOOL
I hope everyone is enjoying this beautiful weather. A little rain (at night) would be good for the grass and plants but I won't complain. Enjoy! #TamaracStrong

Sincerely,

Ken Rizzo
Principal, Tamarac Secondary School