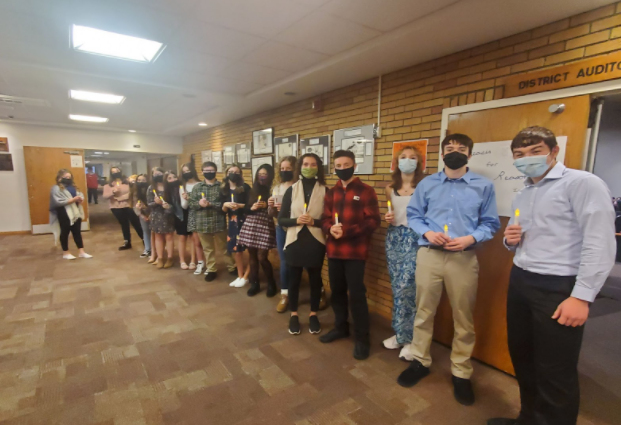 eNews Weekly Update - Secondary School - Week Ending November 12, 2021
Mr. Kenneth Rizzo
Friday, November 12, 2021
Dear Secondary School Families:
I hope everyone had a wonderful Veterans Day honoring our heroes. The Secondary School is currently working on finalizing quarter 1 grades and planning for winter sports and December concerts. We are very optimistic and excited about opportunities for our community to be in the building more often. Information will be forthcoming to families as soon as we have it finalized. In regards to grade reporting, we ran into some unfortunate delays with e-School today. As a result, the parent portal will be opening on Tuesday, November 16 around noon for parents/guardians. We appreciate your understanding and patience with this unforeseen delay. A reminder that students who are failing two or more courses will become academically ineligible to participate in all extracurricular activities. With winter sports fast approaching, these students will need to work with their teachers outside of class time and demonstrate improvement. Eligibility forms are available in the high school and middle school offices for students. Here is a copy of the full policy.
Last week I had mentioned the many successes of our student athletes. Congratulations to sophomore, John Clinton. John is the first Tamarac student to qualify for the cross country class C championship! The state competition will be held at Chenango Valley State Park outside of Binghamton. John began cross country as a 6th grader; his hard work has helped him to accomplish much already. Best wishes for a great 3.2 mile time on Saturday, John!
National Junior Honor Society: In the event you missed the ceremony it was recorded and may be watched at your leisure. Congratulations to our newest NJHS members from the class of 2026!
https://www.youtube.com/channe...
Building Safety: The Secondary school completed its first lock down drill this past Tuesday. NY State police and Rensselaer County Sheriffs were onsite to assist our building safety team. The exercise took about 15 minutes and the students did an excellent job. Thank you to both law enforcement agencies for your assistance! We will be completing three more lockdown drills in the coming months. In the event that a lockdown is necessary for a real emergency, families would be notified as soon as possible, directly from the school.
Chromebook Covers: All Secondary students have been issued a protective cover for their Chromebook. We ask that students keep the covers on the Chromebook at all times in order to prevent damage. If your child has not received a cover please reach out out Adenovelllis@brunswickcsd.org
eSchool Updates: Please help us to be able to reach you. Please reach out to alammerts@brunswickcsd.org if any of your personal contact information (email, cell phone, home phone, etc…) has recently changed. Thank you for keeping this information current!
Attendance Guide for Families:
https://drive.google.com/file/d/15mVsKFnWWMX6X8KgaiNs23zpHImqeTff/view?usp=sharing
Be well and stay dry this weekend!
Sincerely,
Ken Rizzo
Secondary School Principal