Dear Secondary School Families:
Hello March! Before we begin to look ahead to the spring and outdoor sports, I would like to congratulate all of our winter sports teams and student athletes on a very successful season. We've followed along closely and could not be prouder of your character, hard work, and tremendous accomplishments. As always, Go Tamarac, Go Bengals!
A reminder to parents that the Junior/Senior prom is being held on May 13 from 6:00-10:00pm. The venue for the event is the Old Daley on Crooked Lake in Averill Park. This year's prom will be open to both the class of 2022 and 2023. Each student may bring one guest (outside guests from other schools are welcome with prior approval). Students should reach out to the senior class advisors - Ms. Luzinas and Mr. Burton, if they have any questions. Happy dress and tux shopping!
The Secondary school will be completing the last of four scheduled lockdown drills that are required by NYSED. For our final drill, we will be returning to pre-Covid procedures with students moving from their desks to a corner of the classroom. Please share this information with your child so they are prepared. NY State Police and Rensselaer County Sheriffs will once again be onsite to assist our building safety team. In the event that a lockdown is ever necessary for a real emergency, families would be notified as soon as possible, directly from the school.
February Bengal Awards: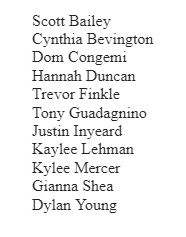 Congratulations to Dylan Young! Dylan is our Bengal Character Award student of the month for February. Great job to all of the students nominated for the following criteria: respectful, responsible, honest, demonstrating social intelligence and citizenship!
Character Education: After a virtual performance last winter, Mr. Jared Campbell will be making his official return to Tamarac Secondary School on March 10. He will also be performing for our elementary students. Jared is an award winning musician who reaches students through the power of music. His message focuses on determination, citizenship, respect, leadership, and maintaining a positive outlook on life. Check out Jared's website for more information:
Spring Sports: Sign ups for Spring Sports are now open. Registration can be done online at: https://www.familyid.com/organizations/tamarac-athletics
Please note that all athletes need to have had a physical AFTER March 1, 2021 in order to participate in a spring sport. Parents/Guardians may want to schedule a physical within the next few weeks if needed. Physical forms can be uploaded directly to the FamilyID portal or send a copy to the health office with your student. The school physician will be on campus to perform physicals on March 7, 2022 for those who are not in compliance. A copy of the required NYS school health examination form can be found here: https://core-docs.s3.amazonaws.com/documents/asset/uploaded_file/1093250/health-exam-form.pdf
Attendance Guide for Families: https://drive.google.com/file/d/15mVsKFnWWMX6X8KgaiNs23zpHImqeTff/view?usp=sharing
Sincerely,
Ken Rizzo
Secondary School Principal