Dear Secondary School Families:
Hello November and the second marking period (which is officially starting on Monday)! Focusing on the many positives in our school community, there has been much to celebrate already. Clubs, after school programs, and enrichment opportunities are back in full swing. Our fall i-Ready assessments and student academic eligibility are indicators of strong academic growth in classrooms. Not surprisingly, regular attendance in school has been a major determiner of success. In addition, our student athletes have performed admirably on the courts, fields and links. Volleyball, soccer, cross country, and golf all qualified for fall sectionals! Oh and let's not forget that the football team is still in the thick of November sectional action! Hopefully these are signs of more good things to come this winter and spring. A reminder that in honor of Veteran's Day, there will be no school next Thursday, November 11. Thank you to all of the men and women in our community who have defended our freedom and this great country!
Report Cards: Please update your calendars. First quarter grades will be available on the portal around noon on Monday, November 15. With the shortened week upcoming, we needed to make a slight adjustment to our grade reporting timeline. When report cards are released, please review with your child and reach out to teachers or your child's counselor or if you have any questions.
Emergency Management & Safety:
Lock Down: The first of four required lock down drills is scheduled for next week. I want to make parents/guardians aware that we work closely with NY State police to practice and prepare our students and staff in the event of a real emergency. Per current guidelines, students will remain seated and quiet at their desks with all electronic devices turned off until classrooms and hallways have been cleared by law enforcement.

Go Home Early: The district will be conducting its annual Emergency Management "Go Home Early Drill" on Wednesday, November 10. The Secondary School will be dismissing students at 2:00pm, 15 minutes earlier than usual.
National Jr. Honor Society: Our annual NJHS induction ceremony will be held on Wednesday, November 10 at 8:30 a.m. Please mark your calendar! The program will be live streamed and recorded for our community. You will find the link below. We are very excited to induct new students. Assisting us will be NJHS members from the class of 2025! The ceremony will be followed by a reception for the honorees. Congratulations to the twenty-two newest inductees!
https://www.youtube.com/channe...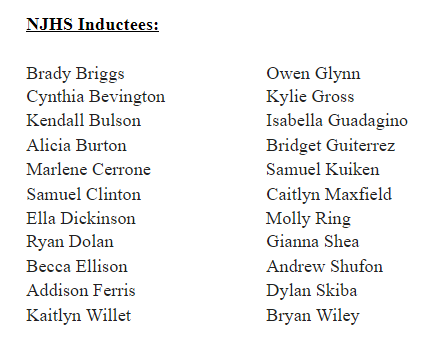 PTSA: The PTSAś November meeting will be held virtually on Monday. Please consider attending and supporting this great organization!
Topic: November PTSA meeting
Time: Nov 8, 2021 06:30 PM Eastern Time (US and Canada)
Join Zoom Meeting
https://us02web.zoom.us/j/86025280392?pwd=bEtLU3paY1pIa0RUcnR5am5pSVVOdz09
Students Against Destructive Decisions (SADD): Last Friday our SADD organization came together to paint pumpkins after school. This great organization helps to meet the social and emotional needs of students and our school community. I wanted to share some photos with our families that, due to timing, we were not able to include in the Halloween update. Thank you to the clubs advisor, Ms. Lisa Parker and all of the students who participated!
Monitoring Student Progress: Regular team meetings are one of the critical parts of the middle school day and the work that teachers, counselors, and related providers do to support each student's social, emotional, and academic progress. Teams recently met with the MTSS (Multi-Tiered System of Supports) committee and reviewed fall i-Ready data for math and ELA. With this information in hand, teachers are able to adjust instruction accordingly and make informed decisions about additional interventions that may be necessary. Parents or guardians of students in grades 6-8 may reach out to our MTSS coordinator Samantha Bartczak (sbartczak@brunswickcsd.org or your team leader if you would like to request a copy of your child's report.
7th Grade Team Data Meeting:
eSchool Updates: Please help us to be able to reach you. Please reach out to alammerts@brunswickcsd.org if any of your personal contact information (email, cell phone, home phone, etc…) has recently changed. Thank you for keeping this current!
Transportation: Due to contact tracing and transportation shortages, students must ride home on their regular bus route. We are currently unable to permit students to ride a regular dismissal or late bus to a friend's house.
From The Tamarac Booster Club: This Fall, 32 senior athletes recognized 23 faculty members who made a positive impact in their lives by sharing their jersey for the day. Thank you to all the seniors for participating and a special thank you to all the faculty who made a positive impact in the lives of their students. We appreciate you!
Attendance Guide for Families:
https://drive.google.com/file/d/15mVsKFnWWMX6X8KgaiNs23zpHImqeTff/view?usp=sharing
Remember to set those clocks back one hour Saturday evening. Have a great weekend!
Sincerely,
Ken Rizzo
Secondary School Principal