Dear Secondary School Families:
Hello February! According to Punxsutawney Phil we are looking at 6 more weeks of winter. If you step outside today or tomorrow you may think that the rodent has Nostradamus-like powers! I hope he is completely wrong in his prediction, but for now bundle up, it's cold outside!
Vape/Education: As we start the new month we are preparing for a series of special workshops on the dangers of Vape/tobacco geared for students, staff, and parents/guardians.
"Steered Straight" is a non-profit organization whose mission is to educate students on the dangers of drugs. The "Steered Straight" organization will be visiting the Secondary School on Monday, February 13 with assemblies for both our middle and high school students. Our faculty and staff will be provided with a separate workshop as well. Parents/guardians can begin to support this work by watching the virtual Parent Academy training below.
https://drive.google.com/file/d/1IPZ_pNYtueKXM4VV3rnP2Im7fi_iV-Q5/view?usp=sharing
Bengal Awards: Congratulations to our January Bengal Award recipients! Students are nominated by teachers for being respectful, responsible, honest, demonstrating social intelligence, and outstanding citizenship. Connor Bowen received a special recognition in our monthly character drawing!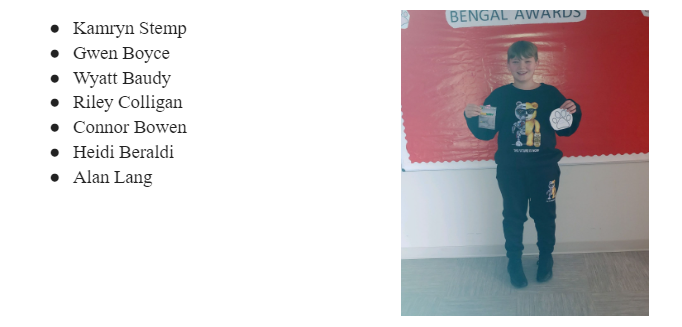 Musician Zorkie Nelson: On Thursday, February 16 Zorkie Nelson will be here for a special presentation with the middle school. He will also be pushing into some music classrooms to provide students with drumming workshops. Nelson is a world class musician from Ghana in West Africa. Nelson will provide students with lessons intertwined with West African music, dance, language and cultural instruction. Check out this YouTube video of a performance:
Lost and Found Update: The Life skills students have been busy gathering clothing from the elementary and middle/high school to post on the Lost and Found. Please look over the website that has been revised to just an elementary slideshow and middle/high school slideshow. Both slideshows include sweatshirts, sweatpants, winter coats, winter hats and gloves, and snow pants.
https://www.brunswickcsd.org/page/lost-and-found
The First Annual Dodgeball Tournament has been postponed. The new tournament date is Saturday, March 25th from noon to 3 p.m. Mark your calendars with the new date and time!
Souper Bowl: Final Reminder - Today is the last day to contribute to the 6th Annual SOUPER BOWL! Unfortunately, the PTSA has only hit 45% of their funding goal and may not be able to provide this opportunity to staff as they have previously done.
Contributions can be made here: https://app.memberhub.gives/souperbowl23
Graduation Caps and Gowns: Seniors can now order caps and gowns through Jostens. Orders can be placed online at www.northwaygrad.com A representative will also be in school on Wednesday, February 1st in the main lobby during lunches.
Class Rings: Attention Class of 2025! Your turn to order your custom class ring and receive your FREE Tamarac Performance Hoodie will be Wednesday, February 1st in school during lunches. Packets were passed out at school, so please see Mrs. Danckwerth if you didn't get one so you have your disposable ring sizer to figure out your ring size. The representative from Jostens will setup in school to collect orders with a min. $100 deposit (or pay in full/use JPay payment plan). Save time by designing your ring online at www.jostens.com and printing out the order form to bring to school. All ring orders come with a FREE custom performance hoodie ($65 value!). We'll get your size for the hoodie when we take your order. Orders can also be placed online at www.jostens.com. As long as you order online by Feb. 3rd, you'll be able to add the free hoodie to your cart when you check out. If you have any questions, please contact us at (518)581-1468 or contact@northwaygrad.com
Please check out the link below for more information! shorturl.at/kAHU3
Sincerely,
Ken Rizzo
Secondary School Principal