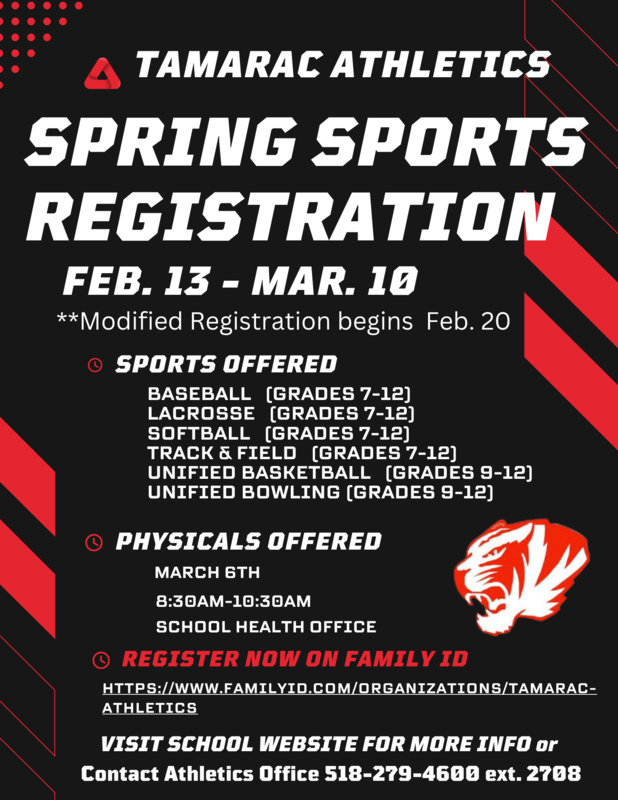 Spring Athletics Registration is now open for JV and Varsity Sports! Any interested student wishing to try out for a spring athletic team should register on FamilyID (You will need to create a FamilyID account if you do not already have one)
Register Here: https://www.familyid.com/tamarac-athletics
Registration for Modified Athletics (7th & 8th grade) opens on Monday, February 20. Registration links will not appear on FamilyID until the first day of registration.
The school district doctor will be on-site the morning of March 6th to complete physicals. After March 6th anyone needing a physical will need to schedule their own with a health care provider.
The registration deadline for Spring Athletics is March 10.
---
Dates for Tamarac's Spring 2023 Athletics Season are below:
JV / Varsity - 9th-12th Grade
Registration for JV / Varsity Spring Sports (Baseball, Lacrosse, Softball, Track & Field, Unified Basketball & Unified Bowling)
Monday, February 13, 2023 - Friday, March 10, 2023
Tryouts for JV / Varsity Spring Sports Start On:
Monday, March 13, 2023
Modified- 7th & 8th Grade
Registration for Modified Spring Sports (Baseball, Lacrosse, Softball, Track & Field)
Monday, February 20, 2023 - Friday, March 10, 2023
Tryouts for Modified Spring Sports Start On:
Monday, March 20, 2023